---
Today I wanted to share with you a place where you can truly take full control over your footwear. Before we get into it I must introduce you to the guys that are offering us this wonderful world of creative flare, Souster & Hicks a family business established in 1978 by husband and wife team, Geoff and Laura Souster. Based in a stunning Georgian building located in the beautiful village of Woburn this is a destination that offers you the ability to enjoy bespoke & made to measure garments at your request with the majority of their consultations and fittings taking place here they also offer an appointment-only service in Savile Row, which is very much the home of the finest bespoke tailoring in the world.
---
So let's get into it you're probably here because you're searching for a well-fitted pair of shoes, and have some ideas on how you want them to look, however, you simply can't find the pair your after. Well this is where "Choose your style" the 3D design studio comes into play, Select your style and create your dream shoe with the option to implement Goodyear welt outsoles and a variety of finer details to put your stamp on your design.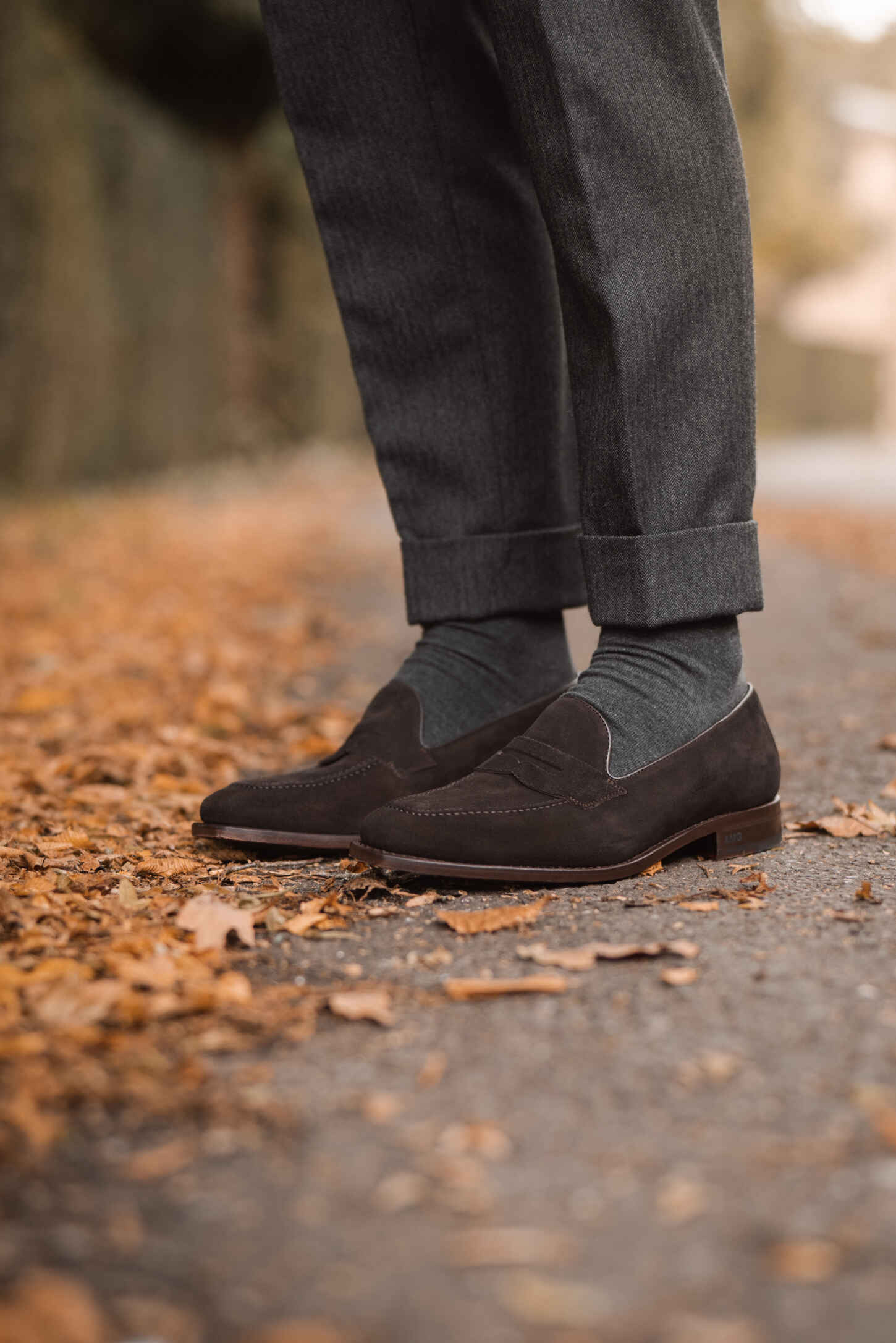 ---
Pictured today are my very own custom made Penny Loafers, a classic shoe that compliments my style. Loafers are very versatile you can pair them with most outfits they look right at home with a pair of light washed jeans or even corduroy trousers. Today I've teamed them up with some grey socks from Pini Parma a heavy weight herringbone trouser from Dries Van Noten, a deep green Boss double breasted jacket layered with a cuban collard shirt from Reiss and a Jockey vest.
---
Now it would be rude of me not to mention the debate over loafers and socks or loafers and no socks which is very much still ongoing, but there's never been a better time to choose for yourself. I personally love wearing no socks with my loafers in the summer months and style them up with socks during the colder months. What's important is that you feel comfortable in your personal style and choices. 
---
What I love about loafers are they work with casual apparel, but they still contribute to elevating sartorial awareness. Socks or no socks, Loafers are a wardrobe staple for me.  If you would like to get yourself a pair of made to order shoes make sure you check out the link below. I wish you a wonderful week. 
---
AD Affiliate links Below 
Jacket Boss – HERE 
Shirt Reiss – HERE 
Vest Jockey – HERE 
Trousers Dries Van Noten – HERE 
Socks Pini Parma – HERE
Bespoke 3D shoe Design at Souster & Hicks – HERE