Today is a very specific post. I am covering some of the brands out there that I really like and pieces that happen to have been curated by individuals in the creator space who really know what they are talking about when it comes to Men's style. This post should (I hope) give you a good flavour of the Male jewellery space by showcasing a range of styles and pieces. However, as always, I'm keen to know what other brands have caught your eye so message me if there are particular brands you would have included and I will make sure I check them out.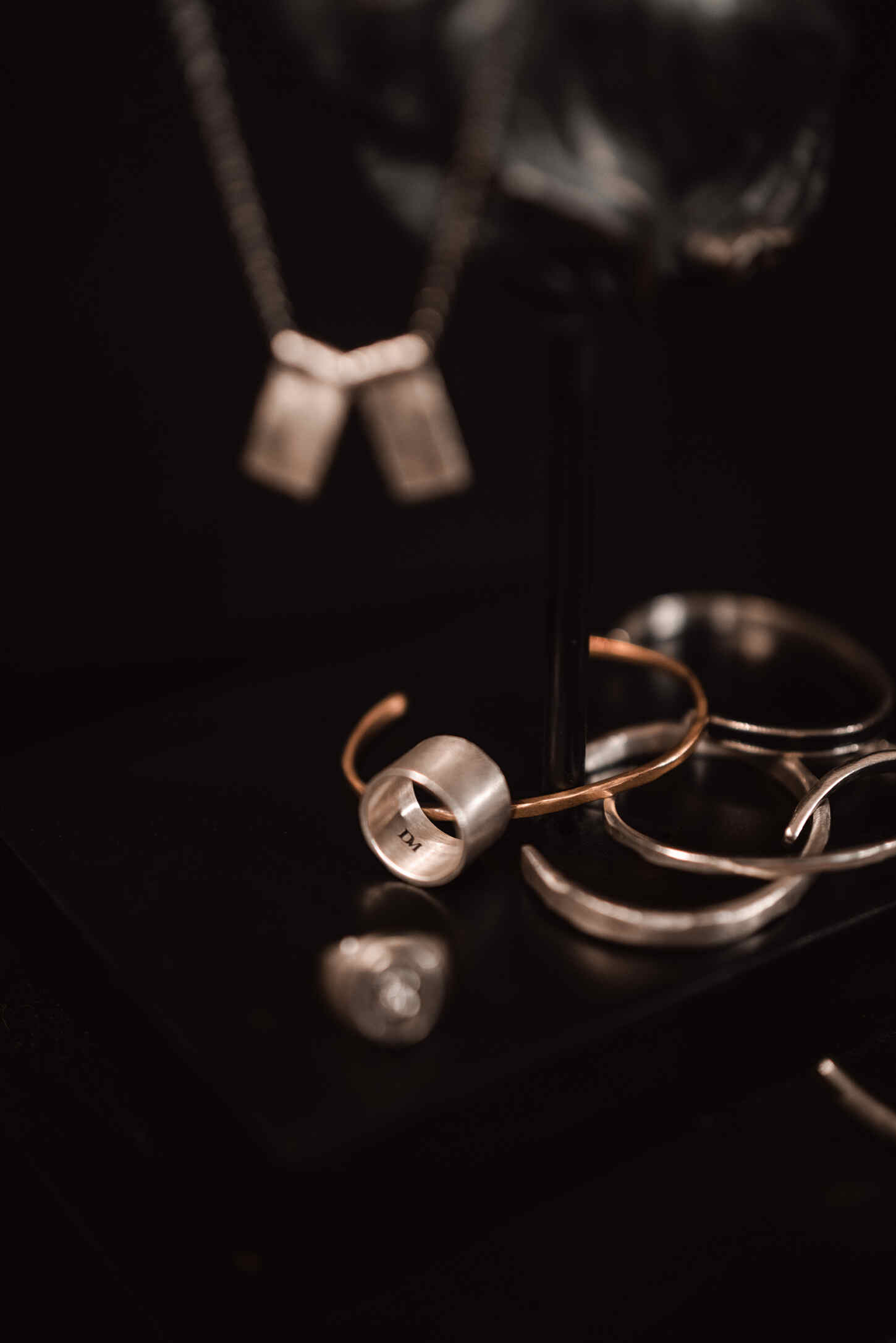 ---
Daniel Mason 
Right, getting straight to it, we are starting off with Daniel Mason who specialise in handmade silver jewellery. Their Rings are really great pieces for styling with monochrome or all black looks (which I can do quite a bit). The Freedom ring which is the chunkier all silver ring is probably something I would suggest if you are already used to wearing rings and feel more confident in this space. I tend to think that the bigger the piece the more confidence it needs to feel good wearing it. When starting off I think smaller pieces are better and easier to pull off. With the lion ring, you get great detail with the subtlety of it's size. 
Looking at around a similar price point for all items, Daniel Mason also offers the Dog Tag Necklace, with a unique positioning the tags sit side by side rather than layering which I quite enjoy. The Bracelets and Cuffs are strong pieces from the collection and I am really into the hammered 925 Sterling Silver Mason Rough cuff piece, possibly my favourite from the whole collection. These items are of high quality with good weight and a real masculine approach to accessorising. 

---
Serge Denimes
Moving onto Serge DeNimes, a brand a lot of you are probably familiar with. Proudlock has put so much effort into this brand and for me it really shows. There are really strong themes running through the Serge DeNimes pieces with nods to Religious and Mythological stories. The Knight Ring above is a real piece for those that love detail with it's Gold Crown on face and then Gold Frame Shield across a Two Tone Finish. With the necklaces, again you have the blend of Gold and Silver with the Gold Plated Silver State Coin piece and then the Silver Lyra Necklace which has a vintage look. These guys have a huge selection of pieces that I'm sure will leave you spoilt for choice. 

---
Rahul Patel Collection
Now Rahul is a good friend of mine but I can safely say that I wish I'd come across his collection sooner. There is a high quality look and feel to all pieces and I'm a big fan of the nautical theme on a number of the pieces. Definitely worth checking out the collection and my personal favourite from this collection is in the image above – The Nautical Necklace. You'll often see Rahul style these with black clothing but make sure you check out the other items in his collection and especially the rings and there are lots of colour options that can be really nice additions to a variety of looks. Rahul Patel Collection focus on perfecting their pieces with a fine eye to the smallest of details. 

---
Silver Clean
A slight break from the jewellery and very fittingly situated under Rahul Patel Collection who actually introduced me to this next product. Maintenance of your pieces is integral and they will get bashed and worn and rather than wear pieces for fear of damaging them I think you should wear them with confidence in the knowledge that should something happen you can get them back to looking as new as possible. Town Talk Silver Sparkle dip is a great buy for all your pieces Gold or Silver. It gives a really deep clean. You simply place your jewellery in the dipping basket and leave it for two minutes, a small brush and then rinse under running water. Just like that your shinning bright like new. A great tip for keeping your collection in good order.

---
Paul Hewitt
The Paul Hewitt pieces have a strong nautical theme also. The bracelet I shot here is the Phrep Anchor Bracelet Silver Nylon black. I think it's a really nice piece that is stylish in its simplicity and can be worked into a number of looks. It offers texture & a softer edge with it's bonded leather finish. A great addition to compliment a watch or a stack of cuffs. 

---
Craftd Ldn
 I think this is a brand lot's of people will know and have come across. The appeal of Craft's products for me is in the simplicity of the items. They come across to me as easy to style with a number of looks. A favourite of mine from Craft is the Crucifix Gold or Silver which has real clarity on the detail of the piece. My first item was the pendant tag it has proven to be one of my most worn necklaces & comes in both a gold and silver finish. Craftd offer a great selection of necklaces that have been designed to layer up together so If you are a big fan of stacking up your neck, hands & wrists this brand is worth checking out. 

---
Distinctive Edge
Moving back onto bracelets, Distinctive Edge offer something slightly different to what we commonly see in this market and their Courage bracelet is something that really caught my eye. A piece with great details a lovely finish and a very comfortable wear. 

---
Monica Vinader
I think we can say you've likely heard of Monica Vinader. I really like the worn look and tone to their pieces. These Monica Vinader pieces are a really nice break from the traditional pieces and often are unisex. These pieces maintain high quality but bring a completely different tone to the space of Men's Jewellery. If you are after a gift for a lady in your life they also have some great women's pieces too.

---
Dion Dreyes
Dion Dreyes a new founded company that have hit the market with a solid impact. A perfectly imperfect build these items really speak to the guy who wants to look effortlessly good. Some of the detailed cracks on the rings make for unique items. The tone of the Dion Dreyes collection is best summed up by it's name…Damaged…but in a good way.

---
Dear Letterman
Definitely worth a look is Dear Letterman. Hass Murad's collection has good quality to the individual pieces as well as a great story telling philosophy. With a strong focus on heritage this is a brand to keep an eye on. The necklace and ring I shot above worked well together but if you take a look on their website you will see they are a brand where you can mix and match most of their pieces which makes for great wearability.  
---
To shop the featured Jewellery & support in most cases small Business find the links below.
Daniel Mason – HERE 
Serge DeNimes – HERE 
Rahul Patel Collection – HERE 
Paul Hewitt – HERE 
Monica Vinader – HERE 
Distinctive Edge – HERE
Craftd Ldn – HERE 
Dion Dreyes – HERE 
Dear Letterman – HERE 
Silver Sparkle Cleaner – HERE