---
This week will have a bit of a wine focus and I'm starting the week off with a blog post on exactly this topic so if you like your wine and are interested in some cool technology that can help in this area then this post and my YouTube video this week are definitely for you.
---
Now I'm really proud to be partnering with a great tech and appliance company, Haier, who got in touch recently and asked if I was interested in working with them. They went into more detail and it turned out they wanted to collaborate on their wine cooler Haier Wine Bank 50 Series7.
---
Since this collaboration was arranged there have been a lot of works started on my house so initially I placed the cooler in the corner of my office with the view that once the works are finished I will see where long term it is best placed. The thing is though, I really like it here now and I think it really suits the office. We'll see what everything is like once the works are finished but for now I'm really pleased with the latest addition to the room.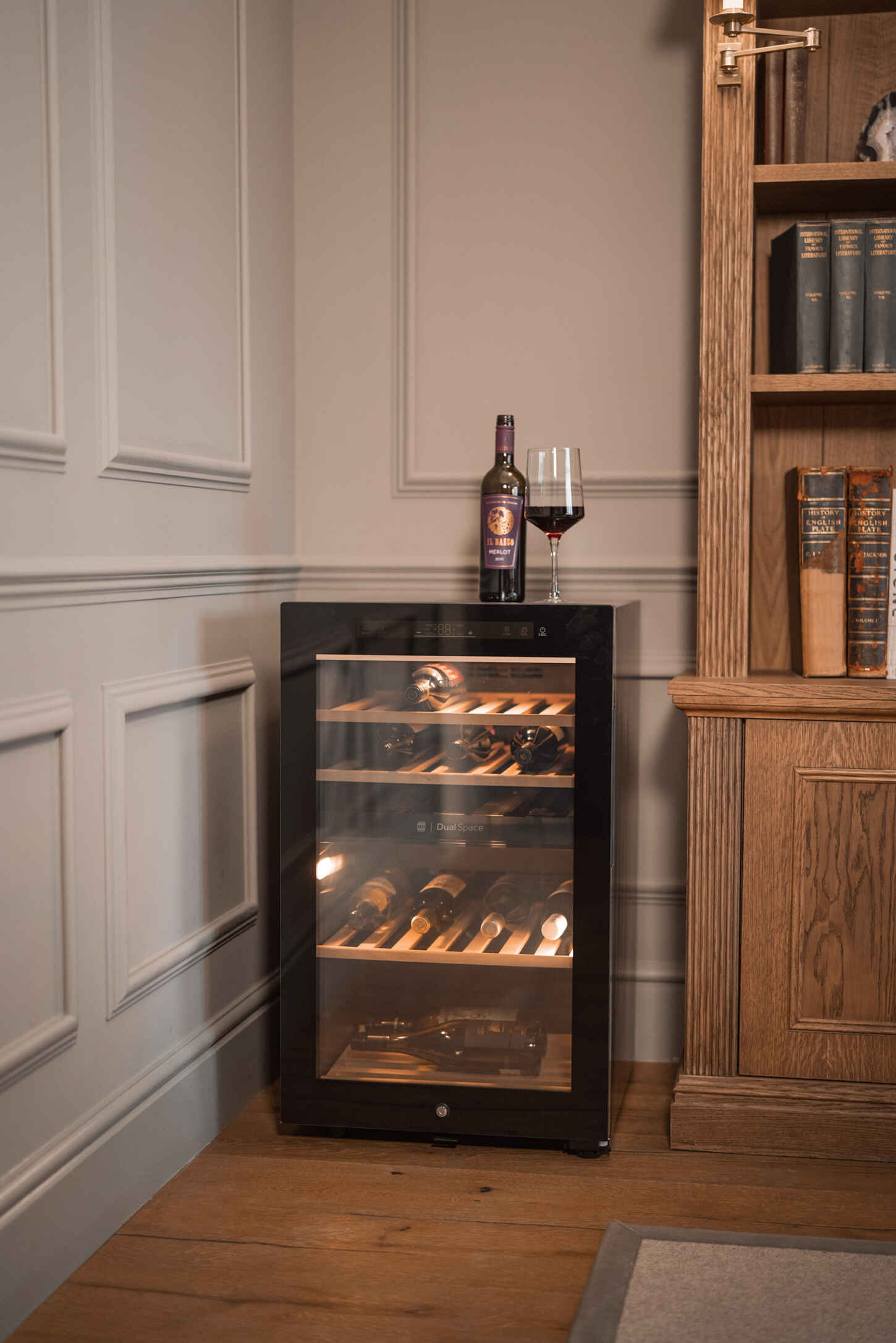 ---
The dimensions are H82cm x W49.7cm x D58cm (in case you wanted to know specifics) and this version can hold 42 bottles. They also offer a larger version that can hold 77. Great thing for me is that the 42 capacity version just fits perfectly here.
---
So why is the addition of a wine cooler in my office of interest to anyone who has an interest in wine…well…this isn't just a straight up wine cooler. There's a lot that goes with it. Not only do we have the really nice design, clear glass door, touch screen panel and removable wooden shelves (which amazingly are designed to avoid subtle vibrations causing sediment build up in the wine…who knew?), but this piece of kit comes with some fancy tech and I'm going to cover a couple of those that stand out to me below.
---
Up first we have DUAL SPACE:
So, in what I think is the best feature, you get to store your wines at different temperatures depending on what needs what. Normally the whites are stored at a cooler temperature and the reds slightly warmer than that. Because of the control with this cooler you can dictate the conditions for the two sections in the cooler. The reason why I love this is (and as I've often alluded to) tech is there to enhance your life not create more hassle and so instead of having to plan ahead and put wines in the fridge or (if you store wines in a garage then given this weather they've need to warm up) you can have them ready to go…no prep no planning. Perfect.
---
THE hOn app:
Through Haier's new hOn app (and they themselves have partnered with Vivino) you can now access loads of information about your wines from ratings to possible food pairings. If you are familiar with Vivino you will know of it's functions and how useful it can be for not only learning more about wine but understanding about price and best practices for that bottle. The app also gives you the ability to manage and control your wine cooler and also offers a set of suggested temperatures designed for every type of wine.
---
Outside of the features, two things I've noticed are one how the lighting is perfect. It's not too heavy and not too dim and secondly how quiet the cooler is. 

If you interested in finding out more then there's hyperlinks in here to the product page and I'll also have my YouTube video out on Wednesday with more information. There will be stories alongside all this where you can swipe-up so make sure you keep an eye out and have notifications on if you don't already.

As always, stay safe.
---
[ This blog post is not an AD however I have partnered with Haier on this cooler over on my YouTube channel and instagram ]
Haier Wine Cooler – HERE