---
It's time for some more Ibiza content and today's focus is on accommodation. The hotel you stay at is the foundation of any holiday. If the hotel is bad then your holiday can be compromised and of course on the flip side if your hotel lives up to your expectations then your setting off on the right foot.
---
I'm incredibly fortunate to go travelling both for work and leisure and over the last few years I've stayed in quite a few hotels so I'm getting better at knowing what I am looking for and what is important to me. It's all well and good going to a top rated place but if the things that make that place great aren't things that are important to you then it's rating is a bit irrelevant.
---
For this trip we stayed at the Atzaro Hotel, which is set in the authentic heart of Ibiza with natural beauty all around and nature thriving it really was my idea of pure luxury.
---
Ever since going to Penha Longa (Portugal) in 2018, I've pushed food and drink right up the list of things that are important to me for a hotel. In Penha Longa we had access to Michelin starred restaurants almost right outside our room. When you have access to great food right on your doorstep it can make all the difference. You can feel more relaxed because you aren't having to search for places and there's an element of excitement as to how good the experience is going to be.
---
Atzaro are known for their farm to fork produce grown on the estate that is served across all of there properties including Atzaro Beach club, The Orange Tree restaurant, La Veranda & Aubergine restaurant which all deliver delicious food consistently. We actually eat at all of the places listed on a number of occasions and amongst the mouth watering croquettes and calamari we experienced the welcoming and upbeat service of their lovely staff throughout ( which I always finds makes a huge difference to your dinning experience), If you enjoy Mediterranean food and want organic, locally sourced fruit and veg this is your place.
---
Noise I think is becoming another integral factor for anywhere I stay. This feels like something you say as you get older and age is clearly catching up with me here. Now I think there are two sides to this. If you are going on a trip looking for a big blow out and a few huge party nights then noise and hustle and bustle are probably what you are after. For the purposes of this trip though, we were looking to relax and unwind so quiet and tranquil was the vibe we were going for, and Atzaro offers exactly that, the sound of nature is all the ear hears throughout the evening and with rooms generously spaced around you really do feel like you have the place to yourself.
---
The Atzaro hotel was one of the most peaceful places I have been to in a long time. With plenty of settings around the estate to just simply unwind and drift off into another world, the sort of settings where you leave your troubles behind and your mind switches off.
---
Views and scenery factor into things pretty heavily. To wake up in the morning and have beautiful gardens around you, blue skies, the sound of water flowing and the gentle buzz of nature all adds to the experience. It helps you unwind and it makes you truly feel that you are away from the day to day of normal life. The service you receive at any hotel will also always be a bit of a make or break as to the entire experience. Thankfully however at Atzaro they were fantastic. There's a great balance between really good service and privacy and this was struck perfectly. People available when you need them but you never feel like you've lost your privacy.
---
Atzaro beach Club – The perfect spot for Lunch after a morning on the beach playing bat & ball or taking a dip in the sea to cool off after a few hours in the sun. Refreshing smoothies & juices to keep you hydrated throughout the day alongside some incredibly comfy beds to lay back relax and enjoy the summer sun I couldn't think of too many places I would rather spend my day here on the Island. The running trend of calm relaxed environments with a strong presents of nature accompanied with good food & drink is really starting to shine through as my idea of a luxury break.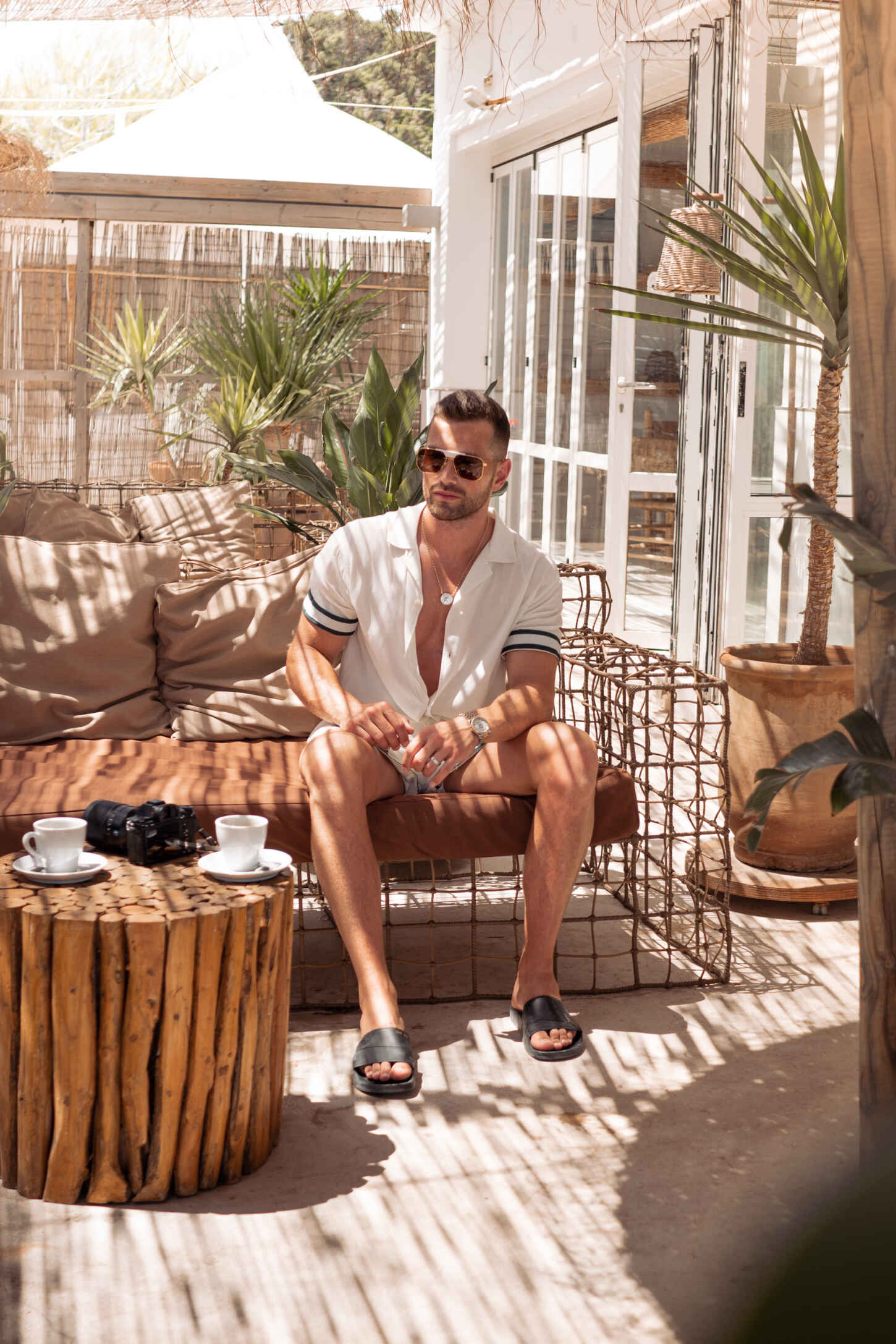 ---
At the end of it all this was a fantastic trip and it was just what I needed. What we need is always going to be personal and individual to tastes and preferences, so I think the key is being sure in what you like and what you are looking for.
---
Atzaro Hotel – HERE