---
I've truly love my office space and it's something that I'm very proud of. It's been a great hub for my work and wardrobe, it's been my personal space, a place to focus without distraction and a room that's given me the ease and ability to work and film with everything I need pretty much at my fingertips. A good set-up you would say.
---
Well, even though I love my office, it's time for a change and this is what I'm going to talk through with you today. My office needs to be a multi-functional room and with my work and different set-ups changing (e.g. filming needs) it's time for a change. This happens and over time functions change and tastes change so it's good to move with those I think. One thing I'm keen to do before this all starts, which will be after the lockdown ends, is to re-arrange the room and use it with that layout before I invest in the pieces to accompany the new layout. This is to fully understand what I need and why. I find it so frustrating when you miss something or purchase the wrong thing because you didn't think it through properly.
---
I'm going to be using the renovation to align the room with the rest of the house and give the space and fresh shake up! I'll be upgrading the quality of the units and the usability of the room.
So what exactly needs a change and why? Firstly, the wardrobes need sorting and I don't just mean what's inside them (although yes they do need a sort out also haha). I mean they need some TLC. A new coat of paint & some sealant, fixed hinges and door catches because they keep defaulting. The draws beneath the wardrobe aren't the best use of space either and can be expanded which will enable me to create more space alongside creating larger fronts to give a more seamless finish to the overall look of the wardrobes. 
---
THE NEW LAYOUT – Here's what I've got in mind for how I want to move things around in the room. Currently my desk is in the corner which is nice as it gives me the feeling of space as I can look across the whole room. However, I can't see the chairs because of my monitor so that makes the space less social. Because of this I am going to move the desk to the side and have it facing the wardrobes, beneath the rooflights. It will be essentially where the trunk is now. This will create a more social space where I can talk with people in my office and not be leaning either side of my monitor to catch what they say or engage with what they are saying. I'm going to add a Chesterfield roller chair as the desk chair too.

I will still be able to see across the room and have the feeling of space but the added bonus will be a more social office so that I don't feel so isolated from those I work with. I think this will create a better workflow.
---
The office is going to undergo a bit of a transformation but as I will discuss in one of my posts to come this will be similar to the learning curve. I need to get this change sorted, get used to it and then I will reap the benefits. It will be more social, have a better workflow and look more polished with a up to date interior and it will always be a space in the house that is uniquely mine and very special to me.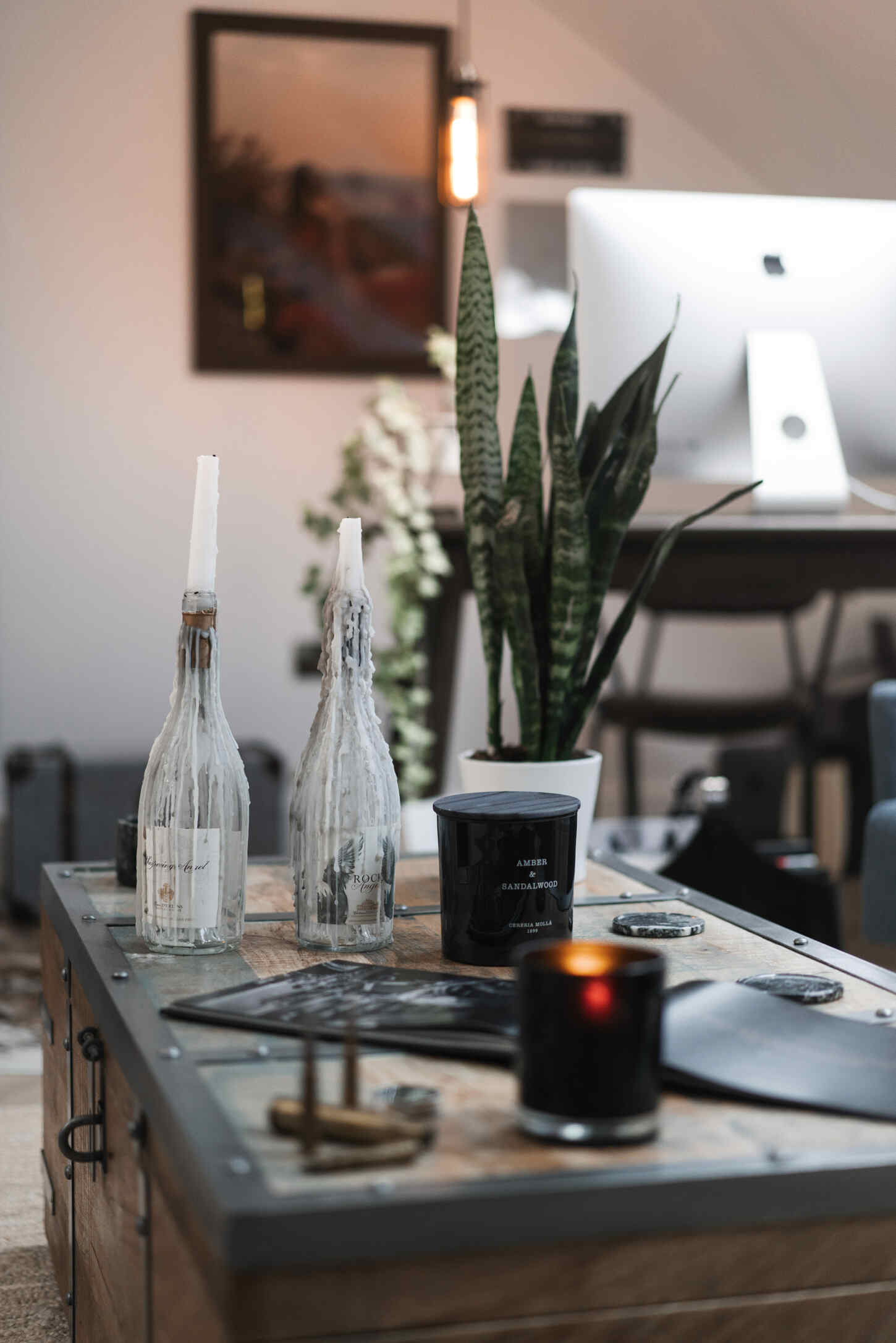 ---
If any of you have seen any great office interiors online do share them with me as I'm always keen to see what people are doing and what direction they have gone with. In the meantime, stay safe and I hope you enjoyed today's post.
---
Interested in seeing the initial room renovation from start to finish? Watch the FULL VIDEO – Here
[ Affiliate links used ]
The Reiss Suit ( Non UK sorry ) – Here
Or Similar Suit Style – Here
Loui Vuitton Diary – Here
The Formal Shoes – Here
The Tie Clip – Here
 Tie (Similar) – Here
The White Shirt – Here
Lou Vuitton Diary – Here
World Map – Here 
Telescope Via Amazon – Here
The Trunk – Here
The Desk – Here
The Arm Chairs – Here
The Stool – Here
Side Tables – Here
The Desk Chair – Here
Candle – Here
The Cast Iron radiator – Here
The Hide Rug – Here
Jute Rug – Here